イメージ
英文による「JRパス、永住者向け販売打ち切り」を再考を求める意見書
---
2016年11月16日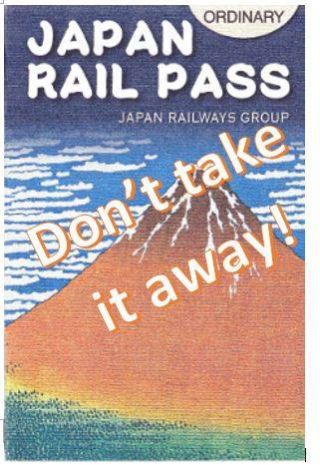 Non-resident Japanese Petition JR to maintain JR Pass  「ジャパン・レール・パスを使い続けたい在外邦人の会」による英文の呼びかけです。日本語を解さない方々にぜひ広めてください。
ジャパン・レール・パスの海外在住永住者の購入資格撤廃の再考を求める運動について、日本語を解さない方にも支援して頂けるように英文でも作成しましたので、当事者以外の方にも現状を知って貰いサポートして頂けたらと思います。是非、シェアして下さい。

[Non-resident Japanese Petition JR to maintain JR Pass]

On 11th of November 2016, the Japan Rail Group (JR Group) announced that they will stop selling the JAPAN RAIL PASS (JR PASS) to the Japanese nationals living permanently outside of Japan at the end of this financial year, in March, without any explanation behind this decision.

JAPAN RAIL PASS, a joint offering of the six companies comprising the Japan Railways Group (JR Group), is the economical train pass offered to the foreign tourists visiting Japan. Currently, the pass is offered to a Japanese national living outside of Japan as long as the person has the permanent residency outside of Japan or is married to a foreign national living outside Japan.

Many non-resident Japanese Nationals have been using the JR PASS when visiting home and enjoying the sightseeing around the country, or visiting Japan to do business, just as the foreign visitors have been doing for years. However, the sudden announcement by JR Group will disqualify the non-resident Japanese citizens from purchasing the pass from the next financial year.

"When our family goes to Japan next year, I'm the only one who cannot get the JR pass because I am Japanese…. Maybe we need to re-consider going to Japan this time."
"For years I have been taking around my foreign relatives, and friends, to many places in Japan using the JR Pass. Obviously JR does not realise how much we have spent and how much I have promoted Japanese tourism in regional areas!"
"I feel like I am being punished for living overseas. Is JR telling us to give up the Japanese citizenship if we want to get a JR Pass?"

These are real voices of Japanese living abroad.

The Japanese government is aiming to get 40 million foreign tourists by 2020. Many of those targeted tourists are often interested in Japan through meeting Japanese people living in their countries and hearing about Japan. More often than not, those Japanese decide to coincide their home visit, so they can take their foreign friends around. Funnily enough, those of us Japanese living abroad, who are obviously contributing to the Japanese Government Tourism Policy's 'Tourism-Oriented Nation' (Kankou Rikkoku), seem to be getting a rough deal. This decision is not an acceptable one, not without a reasonable explanation provided to the more than 1.3 million Japanese nationals living abroad.

Furthermore, towards the 2020 Tokyo Olympics, more and more Japanese living overseas will be visiting Japan with the foreign visitors, so the timing is bad and also conflicts with government policy.

According to the Ministry of Internal Affairs and Communications, there are 457,084 Japanese (as of October 2015) living overseas as permanent residents. Adding their foreign national families, this announcement likely affects over 1 million prospect tourists.

We also cannot see the difference between the Japanese National living abroad and the foreign visitors with non-Japanese passport, except (of course) the passport. Those Japanese people are working and earning abroad as residents of their livng counties, which is not different from their citizens. So limiting the purchase purely by nationality is the unfair treatment of non-resident Japanese.

We would like the JR Group to understand how damaging this decision, to stop selling the JAPAN RAIL PASS to Japanese citizens living abroad, is to inbound tourism. We, the voices of Japanese Citizens living abroad, demand the JR Group to re-consider their decision.

Please support us in our cause.